Corporate Profile
Introduction of
EXEDY India Ltd.
Greeting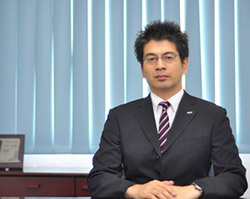 Following our name change from Ceekay Daikin Limited to EXEDY India Limited in November 2010, we, both in name and in actuality, have been reborn as an EXEDY Group member located in a country that is currently one of the world's emerging economic markets.
In 1975, EXEDY India Limited became EXEDY Group's first overseas deployment base and, since we concluded our technical assistance agreement with the local clutch manufacturer Ceekay Automotive Products Limited, our products have been steadily accepted with Ceekay Automotive Products Limited and supplied to local, Japanese, American, and European automotive manufacturers, as well as to aftermarket customers.
Moreover, in addition to the current product range for clutches, we started our motorcycle business in October 2008. We at EXEDY India Limited would like to achieve further development by contributing to the rapidly growing Indian market.
We would like to express our thanks for all present and future support.
Naoki Yoshii
President
EXEDY India Ltd.